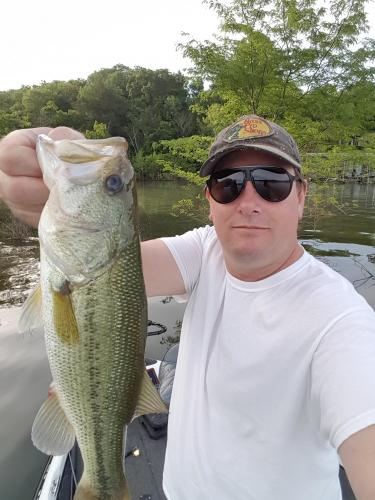 I got out this morning about 2 hours before sun up  and was pretty disappointed in my results the first 2 hours. Skunked. I threw a jig and a black spinner. Water temp 79.
When the sun got up just enough to see the bushes I threw a Buzzbait and did real well number wise. I probably had close to 30 with 2 keeps that were 16 to 17 inches long. Also had a couple good blowups with no hookups.  By 9:00 I was throwing a jig again and caught around 12 more on it – but no keepers on it. Lost 2 keepers at the boat on the Buzzbait. Off the water at 10:45. Stupid people started showing up in groves.
Came across these 2 little raccoons that were too hungry to care that I was around. Sure were cute little boogers.  Never saw momma coon. You never know what your going to see out here, maybe that's why I love it so much!!!