Fished Monday with Muddy Water,  cloudy morning which helped the bite, hard part was finding what banks they were on, when we found them we had some good action, if we didn't find them, we'd get hardly a bite. 
Steep banks with timber or flooded bushes were the best, just had to pick a bank and fish and hope it was a good one.  Fish were right outside the bushes for the most part, but a few were out deep, or followed the bait back to the boat.  1/2 oz jigs were the best bait, Robert got a few on the Ned.  We got about 30 total, maybe 1/2 dozen keepers, but no big ones.  had one about 3.5 come off at the boat.
Today I was by myself, found a good early bite in shallow water off a gravel point, got a half dozen spotted bass dragging the 1/2 oz jig in the shallows.  They stopped once the sun got over the hill and things got tough for a while.  Water was dead calm, sun was out, not good.  Fished some of the banks Robert and had done well on yesterday, not much going on them today.  Picked up one every once in a while, but it was slow.  Tried c-rigging the depths, not much there either, though I did get a keeper sized largemouth in 25 FOW.
Hit one last stretch of bank before going in, bank was getting a lot of waves from the wake boats and that generated a bite, caught 10 in my last hour of fishing, all on the 1/2 oz jig.  Finished with 20 bass, 4 keepers, again nothing notable size wise.
Got about half my bites swimming the jig.  I would cast to the bank, hop it a couple of times, and if no bites, I would swim it back, sometimes I'd pause it on the swim, let it fall and they'd hit it.  Or they'd grab it while it was swimming.  Using a Strike King Rage Craw as a trailer, good action from the claws.
No top water bites.  WT around 80, water is a dingy brownish color with a few feet of viz.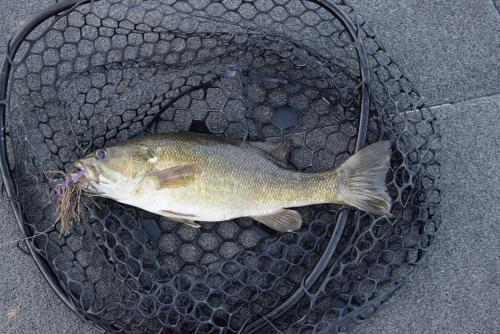 Leave a Comment
comments

---