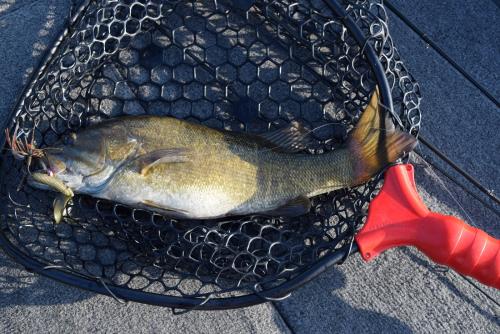 Traveled over to Shell Knob today and launched at the Bridge.  Fished with a fellow Bella Vistan, Mike.  Mike has been an occasional fisherman during his life, but in the last few months has taken up bass fishing.  He has a little problem with his casting as in distance control.  I think we had to go back into the trees at least a half dozen time to get his jigs back.  There were times I wished I had a machete (for the vegetation, not for Mike).
Fishing was a bit slow, my excuse is that I am not familiar with that area.  We went point hopping, best points had some breeze on them.  Dragging 1/2 oz FB jigs with twin tailed grubs or craws produced the most bites for us, usually shallow at the edge of the brush, but a few out in deeper water.  We got about 20 bass, a dozen were smallies, a few spots and a couple of largemouth.  Got 2 nice smallies in the 17-18″ range, a couple of nice 16″ spots and one keeper largemouth.
Mike got 2 walleye on back to back casts with his jig, first one was just short of 18″ and got released, 2nd one was an obvious keeper, didn't measure it, but probably 21″ or so.
Water color is somewhat stained with several feet of viz, surface temps 79-80.
We left at noon, bite slowed down, and the wind was getting annoying.