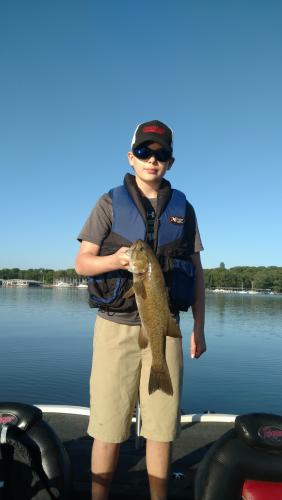 Fished about 5-6 hours with the short people yesterday and today. Catching them a couple of different ways.

Decent flip bite in colored up water, 5′-8′ or so. Few on big trees, few in bushes, more on little trees. Unique features are key…cuts, points in bushes, individual trees that break up a line, laydown mixed in, etc. Had seven keepers doing that yesterday. Couple of 3# blacks, even a few brown fish.
Still a flip bite today, but they were touchy. Finesse, meaning Ned Rig, was the deal today. In the dirty water they aren't super deep, maybe 15′ at the most. Most of those were in front of bushes, or on what should be the old bank. Best today was a 19″ brownie W caught on the Ned. Managed the keeper slam today as well.
Throwing the 1/8 in the lake, 1/16 in coves. Goby, GP red flake, Canada Craw. Several fish had pieces of craw in them today. Also caught a few on a 1/2 oz FB jig.
Fish didn't seem to like the lake backing up today. Or they didn't like the inconsistency at least. Temps have been uniformly 79-80. Some places are "alive", lots of shad, fry, fish, turtles. Others look great but are dead spaces. Presence of bait pretty much points them out.