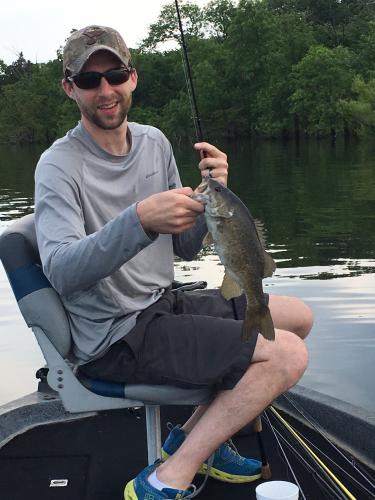 Fished the Kimberling City area Saturday and Sunday. The bite was great on Saturday, and not as good on Sunday as far as numbers, but the size was better.

Saturday, fished from Little Cow up to Mill Creek. Tried to find the flattest main lake stuff we could. Had the boat in about 25-35. Best bait was the tube, watermelon red. Mainly just dragged it but caught a few hopping it. Also caught a few swimming a keitech on both an under spin and just on a ball head. Fished mainly the middle to bottom of the water column. Caught nearly all smallmouth with a couple spots mixed in. Also caught some fish pitching to trees. Not brush, but shady tree trunks. Bigger fish all came on a Tackle HD Craw pitched to the trees. I survived on the main lake stuff from 6:30am until about 2pm,  and it wasn't because of the fish, just got too hard to control the boat.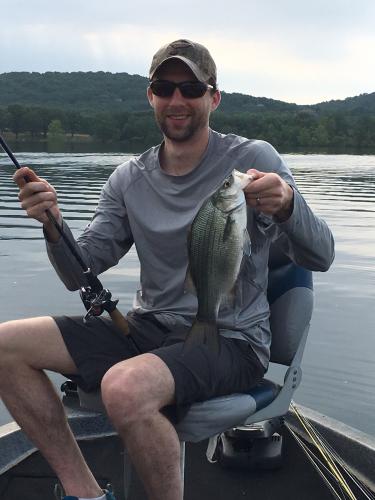 Just a warning… they were really choking the tube down, that sucker was way down nearly all of their gullets. One was gut hooked pretty bad, swam off fine though.
Sunday tried the same stuff, but wasn't having near the number of bites as the day before. However the bites I did get were better. Big fish of the day came on a Tackle HD Craw. Again, pitching to flooded trees. Not the brush but regular old tree trunks. Shadow of the tree seemed key. Best one of the day was about 20″ off a tree on a brown orange craw.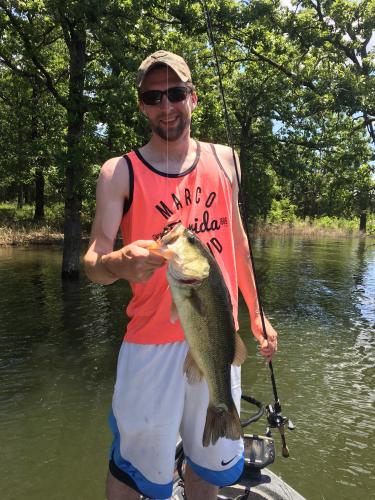 Also stumbled upon a really good night bite near the place we were staying. Caught about 6 with 2 nice keepers in about an hour burning a War Eagle black and red single Colorado blade. Tried slow rolling it… nothing. Burned it near the shoreline, and it got hammered. Brothers caught a few dragging a tube and hd craw also.
Leave a Comment
comments

---