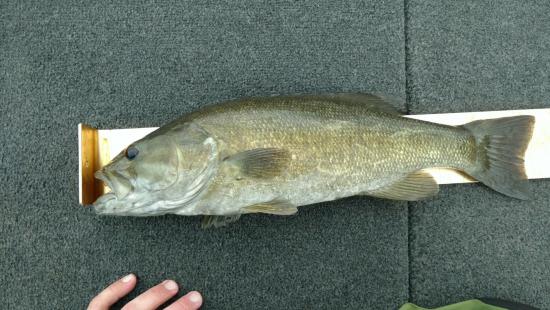 Not sure any of this matters, given the impending condition, if not climate, change occurring.

Fish were tougher yesterday, but still catchable. Found the wind useless, blowing down banks, not on them. Ended up with 8 keepers, two on a big shakey head. Those were deeper K's that did not look like they had been near a bank yet. Rest were all Ned fish. Had to be super slow, light bite. Best 5 wouldn't have had any shorter than 16″ and change.
Saw a lot of beds, many with males in them. Behaving pretty aggressively. If you put Ned in the bed, it was almost automatic.
Today was damp. Managed a mixed 4 & 1/2 hrs, in between dock sessions. Lightning tracker was lit up, but never really saw any. Safe vs sorry, though.
Had 10 keepers in that broken up span. Best two were a 19″ and an 18″ smallmouth. Would have needed to be over 17″ to ride the ride today.
All were on the little guy. The 1/8 ounce is just killing the lighter head now, even on the fall around docks. Don't get in a hurry to avoid the rock snot. Fish are right in it.
A nice random crappie.