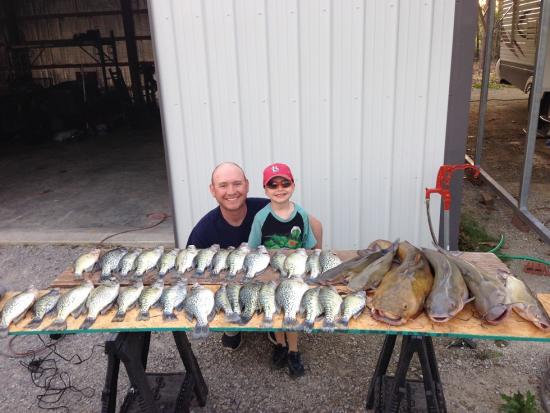 My buddy and I hit Table Rock on the James River arm on 04-08-2017 for our annual crappie/ catfish trip.  We started out rigging in staging areas looking for a deeper bite.  We started out finding some really big females in deeper water.  Hit one deep tree and produced 10 or so.  We ended  the day with 29 big fish.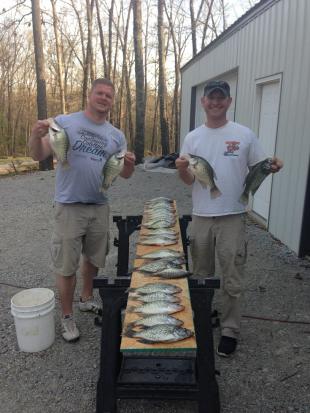 Sunday we hit the water trying to duplicate the same bite.  The wind was terrible and kept us off the areas we really wanted to fish.  We ended up shy of a limit with a nice kicker channel cat to boot.  Had a big fish fry for the family and a great evening.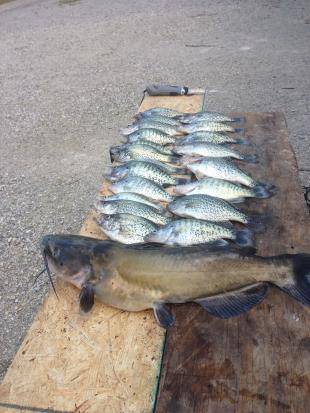 Sunday Night we set some trot lines and checked them first thing on Monday.  Ended up with 6 catfish in good eating size.  We back to fishing crappie and again found the fish staging near spawning areas.  Submerged brush and stumps produced the best fish.  We continued to find the females but ended up finding out that the males were starting to get to the banks as well.  Went and grabbed my dad and five year old.  We caught several fish in the evening up in shallow water.  Minnows, swimming minnows or paddle tail grubs were the ticket.  We kept two limits and the catfish.  Threw the rest back.  Had a great day.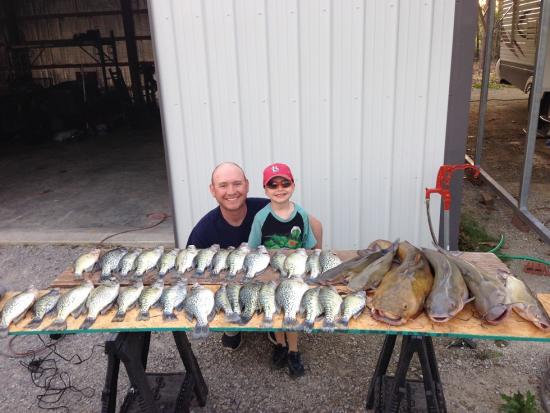 Tuesday we continued the patterns, finding the bigger females off the banks close to spawning areas.  Transition banks and wood seemed to be the ticket.  Later in the afternoon the males really got fired up and hit the banks.  Some flat coves you would catch several, others maybe one or two.  We had limits by 2 and threw back plenty of big healthy females.  Hit some mushroom areas hoping for another big fish fry, but i think it was too dry at this point.
Wednesday we went fishing solely for the neighbor.  She is in her eighties and we decided to give her some fish for the year.  Ended up with our limits by 3 this day.  Beautiful day again minnows and swimming minnows and grubs were the ticket.
Thursday had two more friends head out with me.  Ended with three limits but it took us most of the day.  Started seeing more and more females creeping into the shallows in the evening.  Not as shallow as the males but close.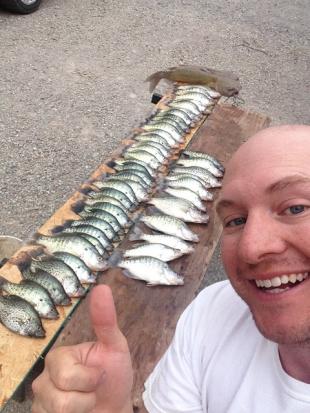 Friday my buddy left and I hit the lake at noon with my dad.  Knowing the fish were going to get to the bank, we stayed away looking for some big females.  Rigging the off bank structure around transition areas produced a few shy of two limits.  We had some big females with some pushing 15 inches.
We pulled trot lines from Monday thru Thursday.  Found several cut by fisherman but overall very unsatisfied with our take.  Only had maybe 12 fish all week.  Bait was easy to find this year but other than that I don't know what the case was.
We had a great trip and my family and friends are happy for the fish.  I traded several people for mushrooms, which I was ecstatic with.  Glad some years work out this way.
Leave a Comment
comments

---