Put in at Orleans Trail about 8:00 am with water temps ranging from 69 to 71.  Water clarity was between 2 to 3 feet.  On Monday the winds were light.  On Tuesday it was blowing pretty strong out of the north northwest.  On Monday I ended up with 35 fish and 2 were keepers.
Included in the 35 were 2 white bass, 3 crappie, and a drum.  Of the 29 bass, it was about evenly split between largemouth and smallmouth, however I did catch 2 spots.  All I can say is that the fish are scattered.  I caught some flipping the bushes and did catch 3 on a spinnerbait up in the bushes and one of them was a nice 18 inch fish.  He must have been sitting there with his mouth open because the spinnerbait barely hit the water and he inhaled it.  The others I caught out in the 8 to 12 foot range, probably about where the bank line is when the lake is at normal level.  On Sunday it was a different deal.  I struggled to get bites.  Only caught 10.  Most of them were caught up in the bushes flipping a baby brush hog in green pumpkin red.  I did catch 1 on a bubblegum trick worm up in the brush.   I'm not sure, but I wonder if the 2nd picture is a mean mouth.  When I first saw it I thought it was a largemouth, but it had a a toothy patch on its tongue.  It really didn't look like a smallmouth either.  It was 16 inches long.
On a side note, is it me or is it just Stockton that when the wind is out of the north that the fish seem to shut down?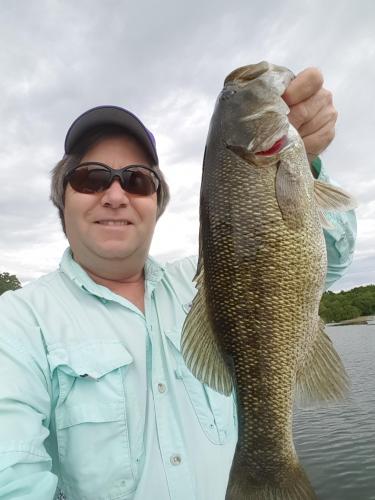 Leave a Comment
comments

---