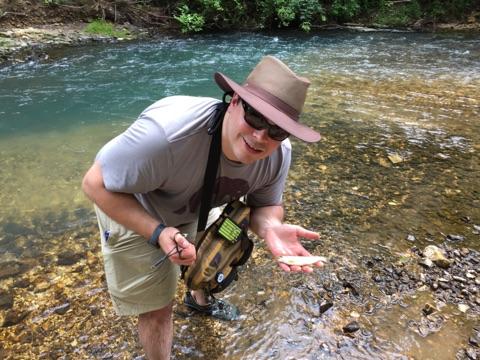 I had a chance to spend Sunday out around the Bohigan Conservation area with a buddy and had a great day.  The river was not running with crystal clear visibility, but it was not bad at all either.
We drove in from St. Louis, so we fished from probably 10am until 5pm.  The guy I was with had never fished a small stream like that and was blown away by it; both in challenge and beauty!  We had a 20 minute heavy shower that cleared away to hot sun, and the river fogged up heavily with the rain/heat combo and made for an awesome view.  We caught around 15-20 Rainbows all around 4-7 inches. Nothing huge. but all in all, I couldn't have asked for a better day.  The river looked healthy and the fish were healthy and biting.  Had an eye on a few lunkers, so no one got washed away in the storm
  It didn't look like anyone had walked the Bohigan trail recently from the parking lot to the stream, so that made for quite the adventure.  Walked to withing a couple feet of a sleeping fawn.  Scared us both half to death!