Generation is still constant during the day and night on Taneycomo.  About a half unit night and most of the day with a shot of heavier water mid to late afternoon.  Water quality remains good enough for the fish to eat, and fight.  The fears about bad water and fish kills this fall have not materialized, but we have about 5-6 weeks left of low DO season.
Just a quick report to show off a couple of nice trout.  I took a family fishing Wednesday in the rain.  Thought it would be excellent catching because fish usually like rainy, cloudy days.  No so.  It was tough.  All the guides were calling each other trying to find the bite.  We started with a pink worm under a float, then to a night crawler and finally boated to the dam and threw jigs.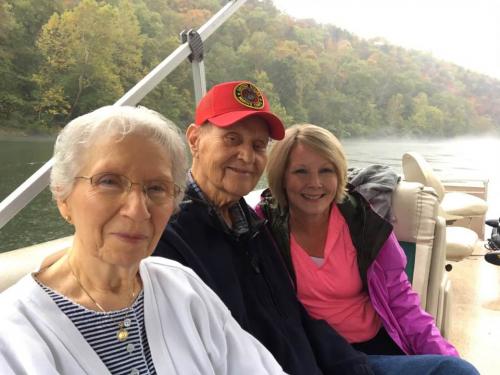 My party had never used spin cast gear… mom and dad were lifelong river and creek floaters, fishing for smallmouth bass in Missouri, Arkansas and Oklahoma.  Now in their 80's and most of their fishing days behind them, they were trying trout fishing for the first time.  I was wishing for better conditions and the fish to bite.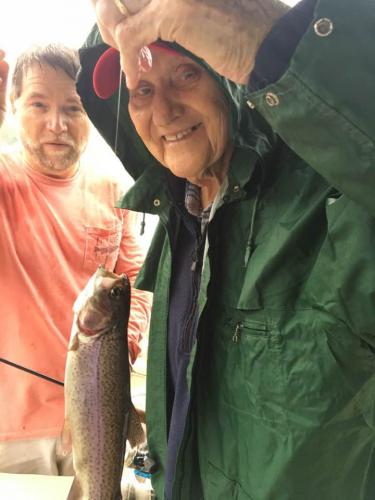 Forrest caught a few rainbows on both crawlers and a jig.  Thelma did too.  I let their son Randy and wife Kim have the back of the pontoon and concentrated on the couple in front.
At one point, we were drifting past outlet #2 when I casted for Thelma and showed her how to lift and jig the jig while reeling slowly.  Of course a big rainbow just had to grab on — I set the hook and handed her the rod.  I knew immediately it was a good trout and adjusted the drag so the 2-pound line didn't snap.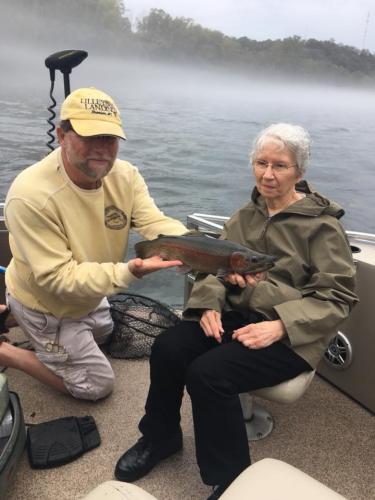 She fought it perfectly.  I made one swipe with the net and missed, hitting the lunker instead.  I thought for sure I'd knocked it off but to my surprise, it was till hanging on just past the net's edge.  I lunged one more time and got it.
Big male, spawning colors, big hooked jaw.  We got a few pictures and back it went, didn't even measure it.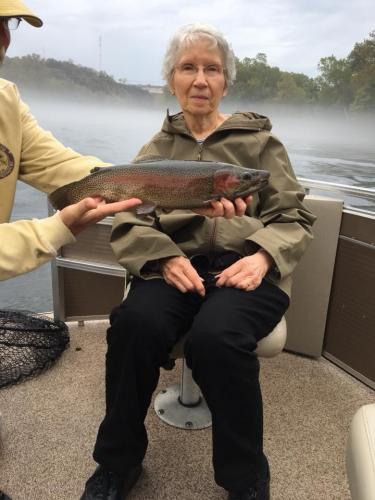 The family shared with me that on the trip back to Oklahoma, Forrest shared that he thought his fishing days were behind him, and that he was so glad to get out on the river again.  I'm hoping he and Thelma come back and go out again, even if the fish aren't biting.  It was a wonderful trip!
Yesterday afternoon, fishing guide Kris Nelson called the office and said they were coming in with a big brown.  So Duane and I got out the scales and watched for them.  Kris and his wife bought a small lodge on Stockton Lake last year and that's where he guides most of the time.  But he makes trips to Taneycomo in the fall when fishing on Stockton slows down.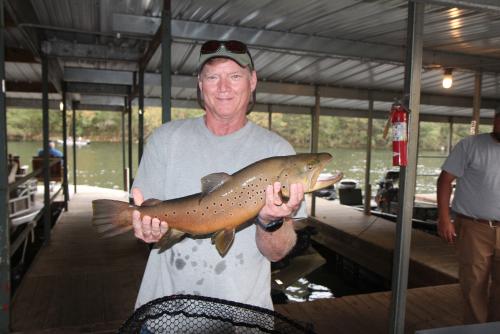 Kris and client, Jack Slaughter, were throwing stick baits against the banks below the dam when Jack hooked what turned out to be a 25.5 inch big male brown.  The brown was in great condition when it arrived at the dock so we took good care of it.  We netted it in a large rubber net and set it in the basket to weigh it – it showed 6.76 pounds.  Kris put it in our big minnow tank which is constantly aerated with fresh water.  We showed Jack how to hold the fish without hurting it, but also to show the whole fish.  But the light wasn't good and the flash bleached out the fish.
We put the brown back in Kris's livewell and pulled the boat to the outside of the dock where the light was better.  We kept the fish in the net the whole time to keep from handling it further.  Jack pulled the fish out and up to take a couple of series of pictures, never keeping the fish out of the water for more than 20 seconds at a time.  As a precaution, Kris held the big net under the fish so as to catch it if it pulled out of his hands.  When it was released, it swam off like a shot.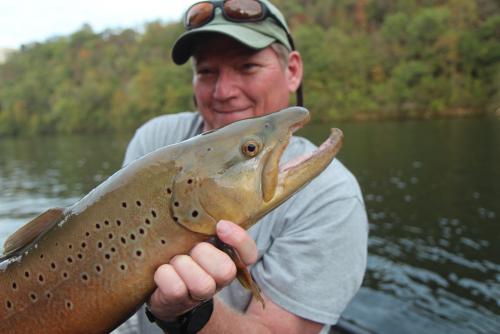 Leave a Comment
comments

---