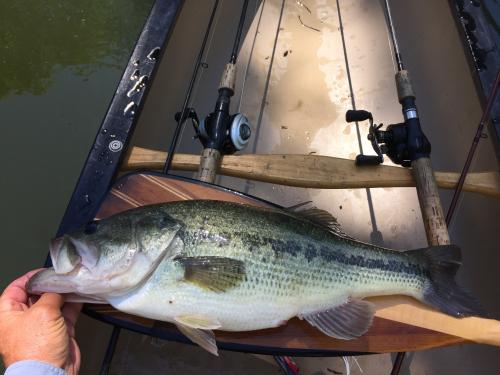 As I've written in a couple of other posts, I've been in a bad slump of losing big fish.  I didn't really expect to break the slump today, because I had chosen to float what is my least favorite stretch of upper Big River.  I've caught a few big fish in this stretch over the years, but not nearly the number I've gotten in my other stretches.  But I'd already floated every other stretch of the river above Washington Park this year, and besides, this is the easiest shuttle for Mary to help me with, especially since she had to do the shuttle before driving to St. Louis.
The reason this stretch is my least favorite is because of the habitat.  The runs and short pools are mostly shallow, with less cover than in other stretches.  There are some long, deep pools, but they don't have a lot of cover, either, and some of them just don't seem to hold a lot of fish.  Plus, this stretch more than any other seems to be affected by extensive cattle pasturing along the river, with attendant over-fertilization and weed growth.  Also, there are a couple places where the landowner has skimmed all the topsoil off the bottoms along the river, leaving a thin row of trees separated the excavated land from the water.  The recent floods have pretty much uprooted those trees, and the river has begun to widen out into the excavated bottoms, shallowing as well.  And to top it all off, the upper half of this stretch was dredged for gravel at least 60 years ago, and has never quite recovered.
I was on the water by 8 AM, and apparently had the river to myself; no vehicles at either the put-in or the take-out.  I caught a 13 inch largemouth in the pool at the put-in, on topwater.  But then I fished two or three good pools that usually produce some fish, with nothing to show for it.  The river was still a bit higher than normal for this time of year after a 4 foot rise a few days ago, and somewhat murky, visibility about 2.5 feet.  It should have been good for my homemade crankbait or a spinnerbait, but neither was working.  As I continued downstream, a pattern emerged…largemouths only.  The river seemed devoid of smallmouth.
I was up to 11 largemouth before I caught the first smallie, and it wasn't much.  The largemouths were from 12 to 16 inches, pretty decent fish.  I'd tried topwater, spinnerbaits, and buzzbaits, and had switched colors on my crankbait, when I came to a pool that HAD produced some nice fish in the recent past.  It was deep for this stretch, narrow, and had a couple log complexes.  It always seemed to be a largemouth pool, and I knew the reason why: there was a hidden backwater, connected to the main channel by a very narrow cut, that often harbored those nice largemouth, but they'd come out into the main channel to feed at times.  The biggest Ozark stream largemouth I ever caught came from a similar situation on the Meramec.
I was between the two log jams, fishing a piece of rooty, steep bank with no visible cover, when I saw the big largemouth come up behind the crankbait and calmly inhale it.  It was obviously a heavy fish, and it was STRONG.  It drove back for the bank, pulling the solo canoe with it, and then I saw the small log it was trying to reach.  I had to really clamp down on it, trying to keep it out of that log.  I barely succeeded.  Then it powered out to the middle of the river, again towing the canoe.  Was I going to lose another big one?  Nope.  I finally lipped it, realizing it was a really big largemouth for an Ozark stream.  I laid it on the paddle blade to take a photo, and noted that it was about two inches past the entire blade.  My paddle blade is almost exactly 20 inches long.  And, as the photo shows, it was fat and very thick.  I'm guessing it was at least 6 pounds, maybe more.
So it wasn't a smallmouth.  But I've gotten to where I appreciate these outsize river largemouth almost as much as I do the smallies.
The day pretty much stayed the same…a fish here and there, mostly largemouth.  The smallies never really turned on, though in the second half of the float I did catch a few more, including one rather slender 17 incher.  I was bummed out when I passed a private access, and came upon a pile of remains from filleted bass.  Some of them were well under 12 inches, and most were smallmouth…and the whole river is now under the 1 fish, 15 inch limit on smallies.
The last mile or so, the fishing really got slow…I think I caught one fish.  And then I found out one reason why; I came upon a guy in a little homemade jetboat.  He had motored up from my take-out, and had already fished that mile I'd just come through.  So I pretty much paddled the last half mile to the take-out, since it's usually very poor fishing anyway.  It ended up being a below average day for me, with 23 largemouth and 12 smallmouth altogether.  But I'd broken my string of lost big fish, finally.
Leave a Comment
comments

---