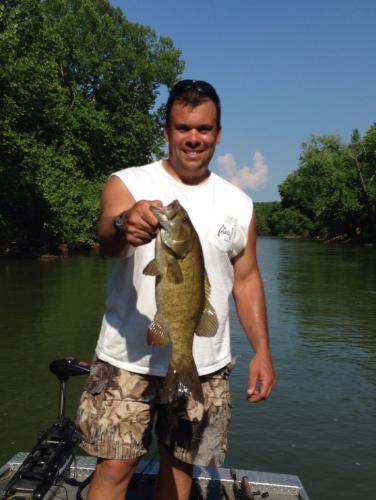 Fished down in the "jet boat water" for a few hours yesterday and had a pretty decent trip.  This was only my second trip since February with the other being last Friday on the same stretch of water.  Life threw the Jones family a pretty nasty change up at the end of March when my wife and youngest daughter were involved in a head on accident on the way to school on a county road that runs between Bonne Terre and Desloge.  Though our daughter walked away unscathed, my wife suffered a dislocated hip and also broke off the upper part of her acetabulum which required surgery to repair.  The recovery from this kind of surgery is pretty lengthy so there hasn't been a lot of extra time for hobbies.  
So back to the trip report.  Since time was of the essence, we focused our efforts on my three favorite holes through this section of river.  The first two were pretty poor.  The third, however, was darn good.  We caught roughly 8-10 "keepers" all of which were smallies and had two that were bumping 18 inches including the one in the pic.
Jennifer can start putting weight on her hip and begin physical therapy Monday.  Hopefully in a month, she'll be able to return to work, and we'll close out this chapter of our lives and things will get back to normal.
Leave a Comment
comments

---