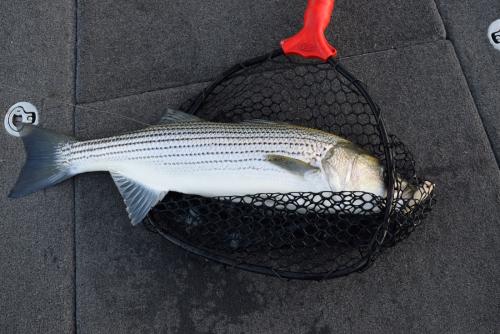 I went back to the same place in Clifty where I caught one yesterday.  Stayed off the bank a bit and threw topwater baits around.  Got out early, I was on my spot by 0530.  Beautiful morning with a full moon and cool air temp.
Started off throwing a Yellow Magic Havana, a 5 inch walk-the-dog type lure for those of you not familiar with it.  First cast I had a striper blow up on it 4 times and miss it every time.  Threw it back in there, 2 more blow ups on it, again all misses.  Threw it again at the same spot, finally got one, but it was a small one by striper standards, about 3 lbs.  I released it.
Threw the Havana some more, hit kind of a lull, not much activity, only had a few swirls at it, fish just seemed to be a bit shy of that lure.  So, I went back to the Yellow Magic popper and the smaller, more finessy lure is what they wanted.  Got some tremendous strikes on it.  I was throwing it on a medium weight 7 foot crankbait rod, 10 lb. mono, and those fish were in control.  Just had to let them pull drag when they wanted, keep pressure on, and eventually they'd wear out.  Fortunately no trees in the water for them to wrap up on.
Got my three fish limit, I estimate they went 15, 11, and 8 lbs.  Kept all of them as once they are worked this hard, survival chances are low in warm water.  Wish I could have kept fishing as they were still blowing up, but catch and release was not an option.
Did some black bass fishing afterwards, caught some short smallies, one keeper sized meanie, several small spots, all on the C-rig with a craw.  Also caught a walleye that was 17.5.  Wish he would have made that keeper mark as I was going to be cleaning fish and it would have been good to have a couple of walleye fillets.
Water temps were 73-75.
Leave a Comment
comments

---