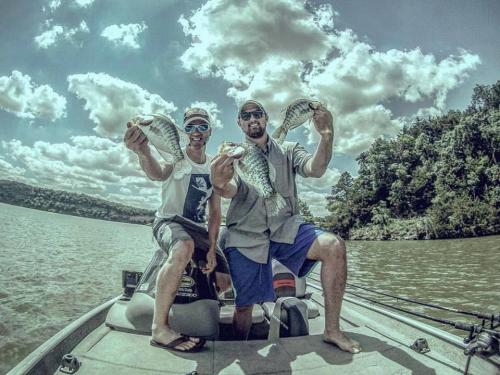 Leisure time fishing at it's best!  Took a coworker out yesterday that never ever really crappie fished before.  Had to change that.  He's only just fished little ponds back where he is from.  He had a blast and caught several PB's!  Ha!

Doing what I look forward to do every year.  Pulling cranks.
WT 76-80.  Kind of trolling aimlessly right know and coving water.  Basically stayed along the flat/channel edge as always just a lot more water in that column.
I'ld move to the more normal depth that the lake would be at but, wouldn't ever get a bite.
It's not full on yet.  Need heat which is coming and be nice if the lake would get down more. lol!
Several of them still had eggs in them that they are absorbing.  That flooding might of mess some of them up.  I don't know.
It was a great day and had a lot of fun!  God bless.