OzarkAnglers.Com offers current fishing reports and information on dozens of lakes, rivers and streams in the Ozarks including Table Rock, Taneycomo, Stockton, Beaver, Lake of the Ozarks, Current, Eleven Point and White River.
| | | | |
| --- | --- | --- | --- |
| Recommend Ozark Anglers: | | | |
Latest News
by Tim Homesley, Tims' Fly Shop. Had another good day at the park. Lots of nice 3-6 pound trout in the water with enough 8 and 9 pound trout to make it interesting. I caught several nice fish today–caught a lot of them on glo-balls, san juan worms, woolybuggers, and even a few on small pheasant tails. Not a bad day. read more…
---
Put in a full day Saturday, launching at Baxter around 7:30 and fishing from a couple of miles below there up to Big Creek. Finished up at 4:00. High temp was 36 and the wind absolutely howled out of the north the entire day … 10-15 mph sustained with gusts to 30 mph. There were a few rays of sun in the late afternoon, but for the most part it was cloudy all day. read more…
---
Al Agnew, OAForum– With cold weather moving in at the end of the week, I wanted to get a good day's trip in while the forecast was still decent. Today it was supposed to be partly to mostly cloudy, 55 degrees, 20% chance of rain. I was headed for the Meramec, downstream from where Mitch and I fished last week, looking for just a LITTLE murkier water. I'd never fished down there this time of year, so didn't know what to expect. read more…
---
Field and Stream:  Some of you may already be familiar with Brian Wise of Flyfishing the Ozarks. He's a guide who leads clients to monster trout, but he also produces what I think are the best fly tying videos on the interwebs. Mostly you'll find Brian tying big, gnarly, articulated trout streamers. But knowing that he has the skills to pay the bills for any species at the vise, I asked him to shoot 5 tying videos exclusively for Field & Stream. This is the first installment in a mini series I'm calling "Money Bugs," in which Brian shows us how to tie a cutting edge muskie streamer called the Panty Dropper. In the weeks ahead, keep an eye out for more of these videos featuring new-age patterns for everything from steelhead, to smallmouths, to stripers. —Joe Cermele
---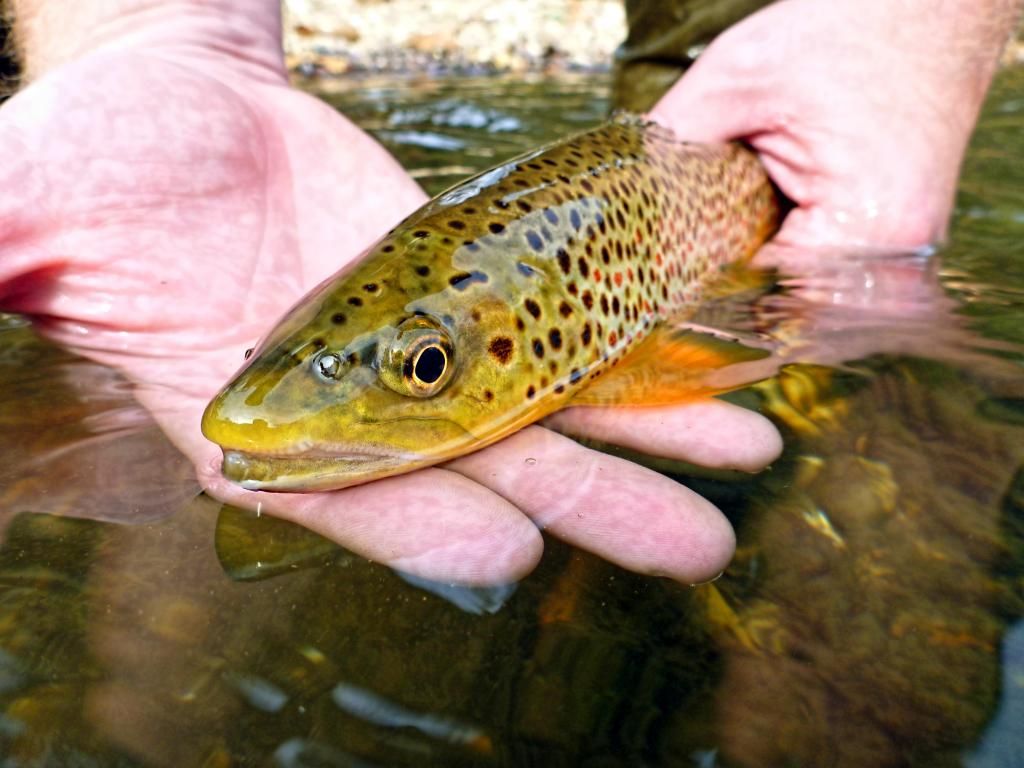 by Geoff, OAForum. Spend the last weekend in October at Montauk for our annual October trip to Montauk. Instead of the usual saying "im going to fish outside the park" and spend the entire weekend within the park, i decided to not buy a daily tag, thus forcing me to fish the Current. read more…
---
The leaves have all fallen and we've had our first hard freeze. Yep . . . winter is right around the corner! I believe some great trout fishing is around the corner, too, here on Lake Taneycomo. read more…
---
by MOsmallies of OAforum. Just got back from the lake where I spent the weekend chasing bass while most must have been in the tree stands. We only saw 3 or 4 boats all weekend and at least one was duck hunting. Weather was beautiful with mornings in the 50′s and afternoons in the mid 60′s. Wind was present all weekend but not overly strong. Water temps ranged from 59-61 all weekend. Our place is at the 25 mile marker so we spent most of our time fishing the 25 and 26 mm. I didn't hammer 'em by any means, but caught enough to keep it interesting. read more…
---
Filmed by local fisherman, Johnny Flycaster, on November 5, 2013 during a draw down of the lake.
---