OzarkAnglers.Com offers current fishing reports and information on dozens of lakes, rivers and streams in the Ozarks including Table Rock, Taneycomo, Stockton, Beaver, Lake of the Ozarks, Current, Eleven Point and White River.
| | | | |
| --- | --- | --- | --- |
| Recommend Ozark Anglers: | | | |
Latest News
Generation on Lake Taneycomo has varied widely the last week or so — all tied to the air temperature.  When thermometer dips below freezing and the heaters kick on, dam operators run water to produce that needed electricity.  When it warms up, as it will in the next few days, generation will slow and we'll see no current most of the day.  That's my best prediction, but I know the U.S. Corps of Army Engineers proves me wrong a lot (smiley face.) read more…
---
Generation has been fairly consistent lately.  It's been geared toward temperature and power demand.  The colder it is, the heavier generation is at night and during the morning hours.  With it getting warmer the last few days, generation has been light in the morning.  It's been off almost every afternoon for a couple of weeks. read more…
---
There has not been much change in regards to generation patterns lately.  The dam has been running a little water each day, but it's anyone's guess what time that water will run.  The lake level has reached up to 705 feet, one unit, once or maybe twice a day, in the morning and/or in the evening and running for less than an hour each time.  We call this "fish water." read more…
---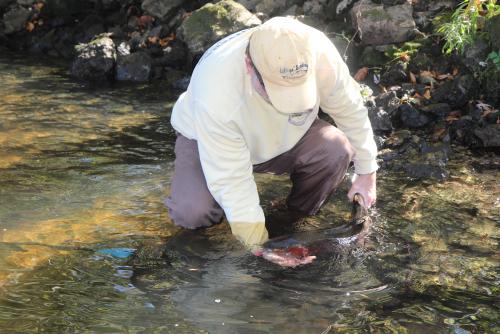 Just a quick semi-short fishing report for Lake Taneycomo.  They've been leaving the water off most days and running a little in the evenings but there are exceptions!  Like yesterday and today!!  They've ran water all day the past couple of days except for a little break in the afternoons.  In other words, it's unpredictable. read more…
---
Cooler weather has brought less generation to Taneycomo.  The water has been running for an hour or two in the evenings and that's about all.  That makes fishing off the docks and wading below the dam more enjoyable for sure. read more…
---
Generation is still constant during the day and night on Taneycomo.  About a half unit night and most of the day with a shot of heavier water mid to late afternoon.  Water quality remains good enough for the fish to eat, and fight.  The fears about bad water and fish kills this fall have not materialized, but we have about 5-6 weeks left of low DO season. read more…
---
Every year, the Missouri Department of Conservation takes a sample of the fish in Lake Taneycomo by electro-shock to see how the trout are fairing. The following are this year's findings.
2017 Lake Taneycomo Sampling Study
---
Generation has been consistent for the last 10 days — at about 2,200 cubic feet per second at a lake level of 704 feet, generating 30-35 megawatts of power from midnight until 2 p.m.  Starting at 2 p.m., they're building it up to 3 units (not full), almost 9,000 cfs at a lake level of 708 feet.  That's a lot of water!  But it goes back down to 704 feet by 8 p.m. read more…
---